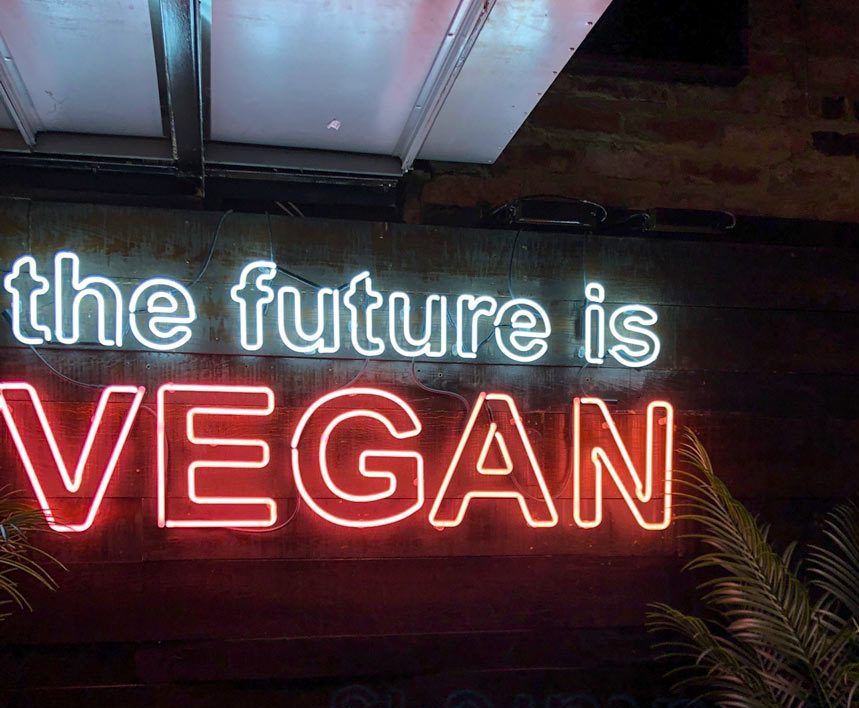 London – Vegan Food Guide
Since almost half a year I try to eat fully vegan. In Vienna it's often not easy to find a vegan dish on the menu except you go to a vegan restaurant, but there are more and more vegan options. But what I experienced in London just blew my mind: I found myself in vegan food paradise. There are vegan options in almost every restaurant and especially in the neighborhood of Shoreditch you can find various vegan-only cafes and restaurants. Actually I feel like I have eaten the whole week, well that's exactly what I have done. Watch out you foodies out there, here are my favorite places:
Breakfast and Cafes
Essential for a good start into the day is a healthy and long breakfast. As we had quite a lot time to spend in London, so we celebrated long breakfasts at hip places and loved it.
The Holy Shot
This breakfast spot was quite near our apartment and so we went there quite often. It is a hip place with a lot of plants and cozy furniture. They have really good coffee and offer acai bowls, avocado toasts and all that fancy stuff.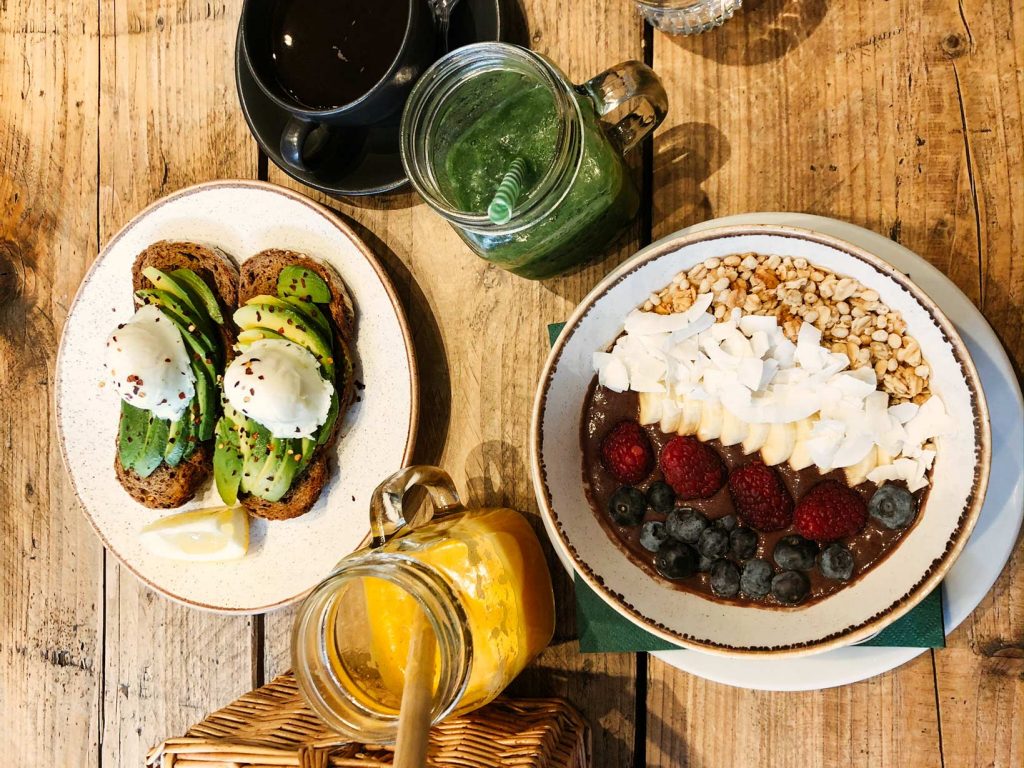 Crosstown Doughnuts
In my opinion this is the best doughnut spot in London. There are several stores all around London but we dropped into the Shoreditch store. They have a wide vegan selection and my choice was the Chocolate Truffel one – it was sooo tasty!
The Breakfast Club
A classic breakfast spot in London is The Breakfast Club. They offer really hearty dishes from burgers to pancakes and sausages. BUT they also have vegan options – I chose the full vegan breakfast with soy scrambled eggs and lots of other really tasty stuff.
Franze and Evans
One of my favourite breakfast spots in Shoreditch. They offer a wide ranch of pastries but also mueslis and avocado toasts. Really loved that place!
Allpress
In comparison to the other spots this one opens at 7:30 am and is a perfect place for early birds like us. We randomly dropped in this place and had coffee and avocado toast – loved it!
Dinner
Unity diner
Oh my, this was one of the best restaurants I have ever been. All their profits directly go towards animal right campaigning work. Even the staffs' uniforms are ethically made and they care a lot about reducing plastic waste. Oh I didn't tell you the best thing: All their food is vegan! They offer a lot of classic fast food as completely vegan dishes like hot dogs, burgers, chicken wings or even ice cream. I had a hot dog with shrimps topping and it was so tasty – best vegan food in London!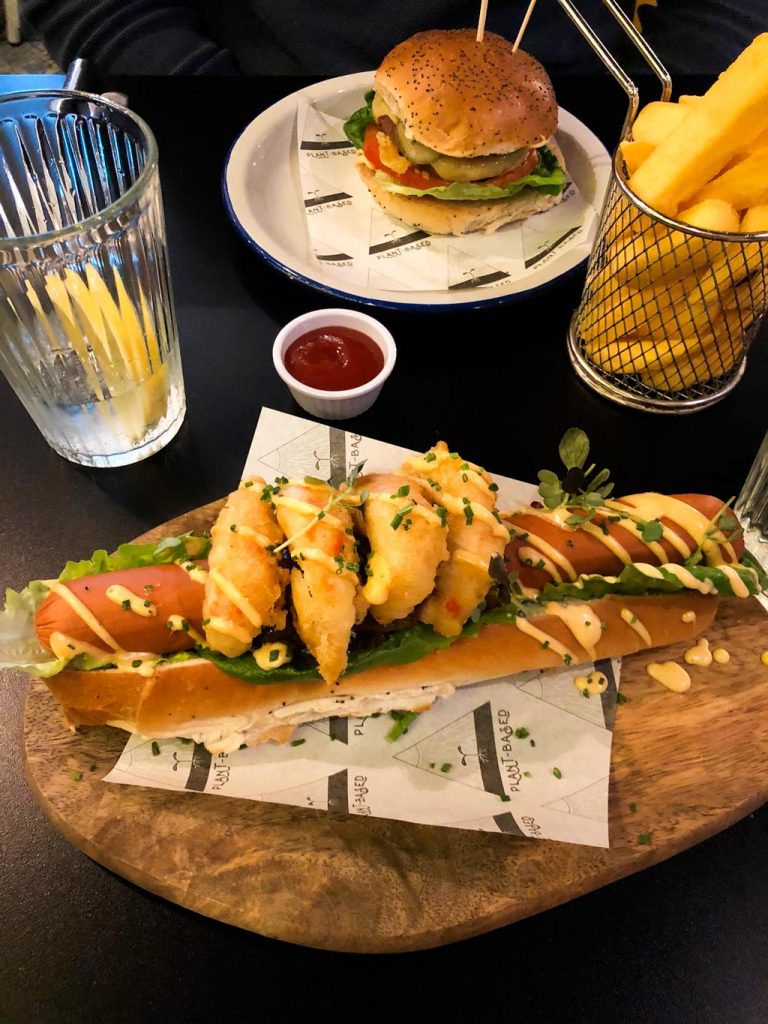 Well and bucket
This was our favourite pub to stop by after dinner. They have a huge selection of beers but also offer a lot of food and also vegan options.
Mildreds
We had grad Asian vegan food there and loved the service and atmosphere. They have a few restaurants in London, check them out!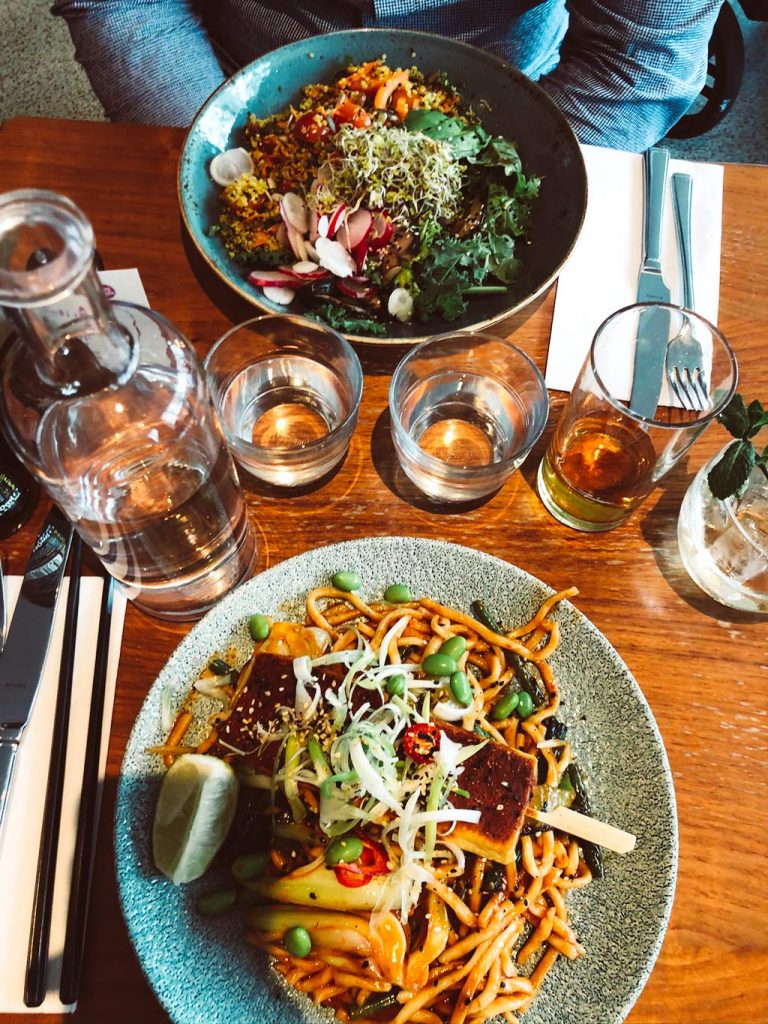 Picky Wops
The most amazing pizza we had in Shoreditch was at Picky Wops. They have vegan salami and vegan cheese – do I have to say more? Its quite a small restaurant with really good service!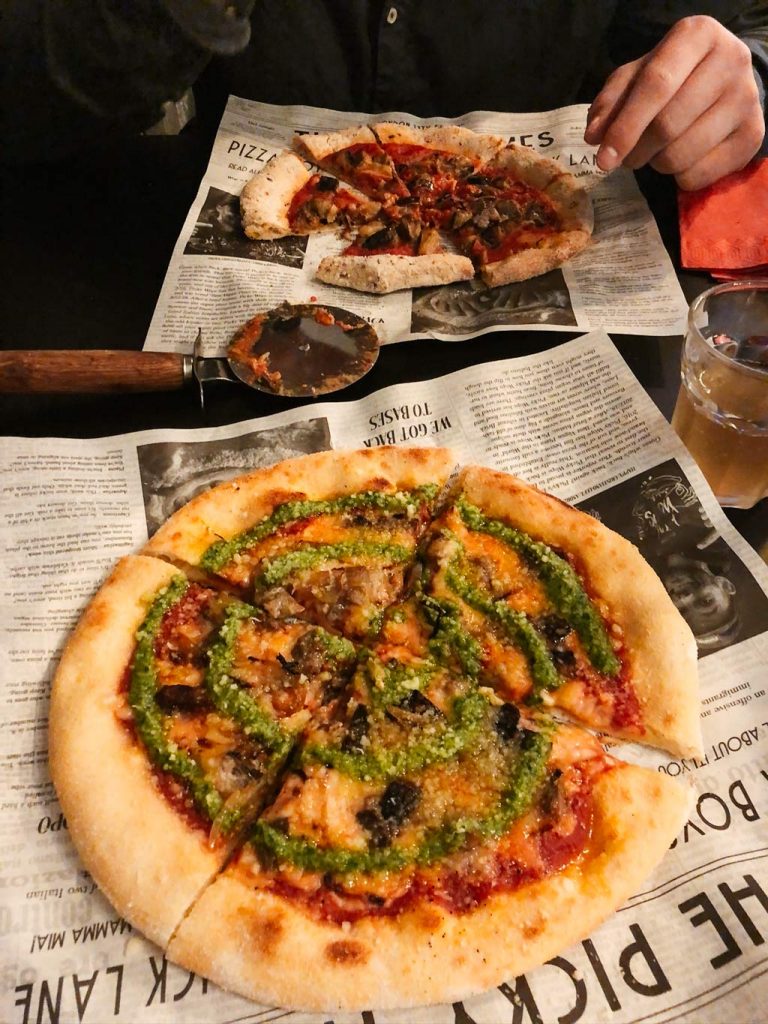 More vegan favorites in London: Vurger, Honest and Vegan Yes.
And last but not least we loved eating at the hundreds of markets in London, for example we visited the Old Spitalfields Market, Borough Market or the Camden Market.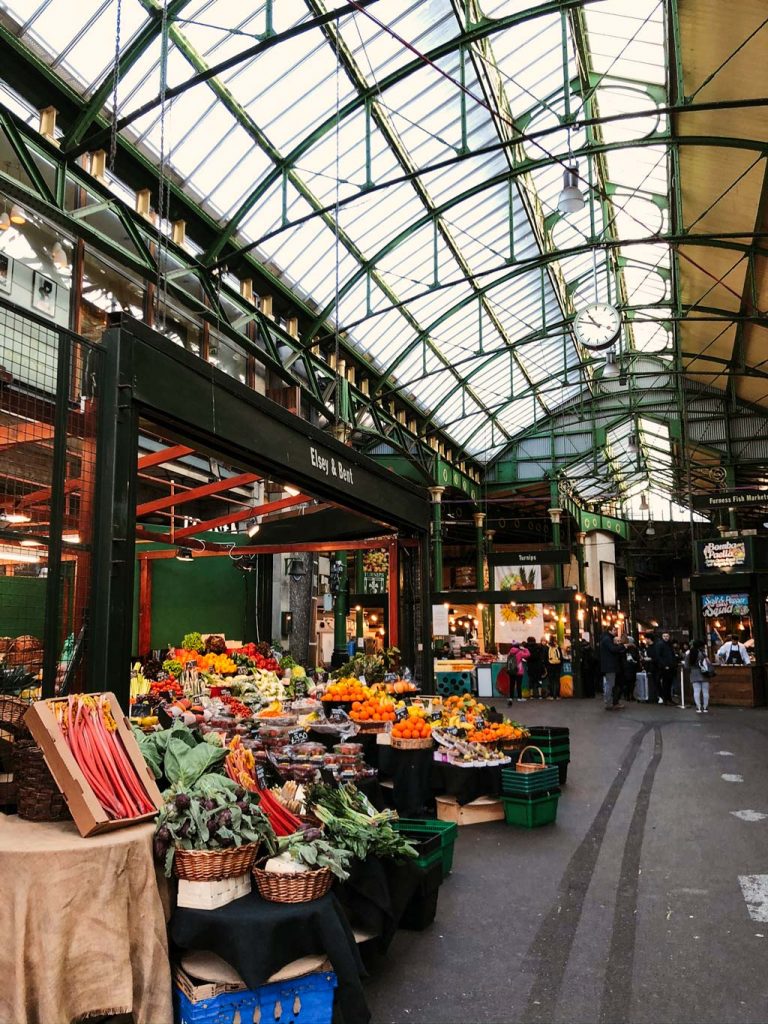 Anyways when you are in a city where you don't know any vegan restaurants I can recommend the app happycow, where a lot of vegan restaurants are listed. We found quite a lot through this app!
As you can see, London offers everything that makes your vegan heart beat, enjoy your meal!
Here are the links to all the mentioned restaurants and cafes at one sight, just click on them 🙂
Breakfast and Cafes
The Holy Shot
Crosstown Doughnuts
The Breakfast Club
Franze and Evans
Allpress
Diner
Unity Diner
Well and bucket
Picky Wops
Mildreds
Vurger
Honest